Hello all!!! Sorry I have been less frequent than usual, but this has got to be the busiest 6 week period at work – ever.  But I think it's come to an end.  And what do I do at the end of a work period of intense trauma?  I go crazy mad sewing of course!  At one point I had three things on the go at once (I told you I was crazy & wild didn't I?!)
And just in case you were wondering, all else has gone to pot.  Unfortunately my half marathon training has suffered.  There is no way that I will run faster than last year.  I am destined to forever joke about my slowness (to hide the true pathos) & avert my eyes at the official photos that record the weary shuffling gait as opposed to the springy gazelle that I dream of being.
Here is a picture of us all stretching after Sundays 10.75 miler though …. ha haha!
Photo courtesy of Bo, thank you for sharing.
Oh well.  Anyway,  onto business.
This is a taster to warm you up with some inspiration while I gather my photos.  And remember my birthday giveaway is open until the weekend – not too late to enter
Yes, here is a collection of sewing wonders with a common theme.  Scallops seem to be clip clopping rampant through the sewing community.  I have vivid memories of  Kirsten's scalloped "brunch" shorts last summer.  They are even lined…..
Roobeedoo's taunting these shorts with  promises to follow with  some purple velvet ones.  (Purple velvet- you heard right.  From the same stable as the pink corduroy flares.  What credentials!  Can hardly wait)
Do you remember Tilly's scalloped edge jacket a la Betty Draper?  I think the sewing world united in outpourings of love & admiration for its beautiful details & swooned over the scallops.
And adding scallops to the hem of the much loved Colette Patterns Sorbetto is genius methinks.  Here is Judith's adorable polka dotted version (& check out the Clovers too)
 And then up popped Marie from a Sewing Odyssey last week with her skirt with scalloped waistband.  SO pretty!  Follow the link for more close ups as it is truly cute.
And Casey has the made the most amazing scalloped edge collar, as well as providing us with a tutorial to make it ourselves …. delicious.  Will I ever get the time to try all this for myself?  I know I want to ….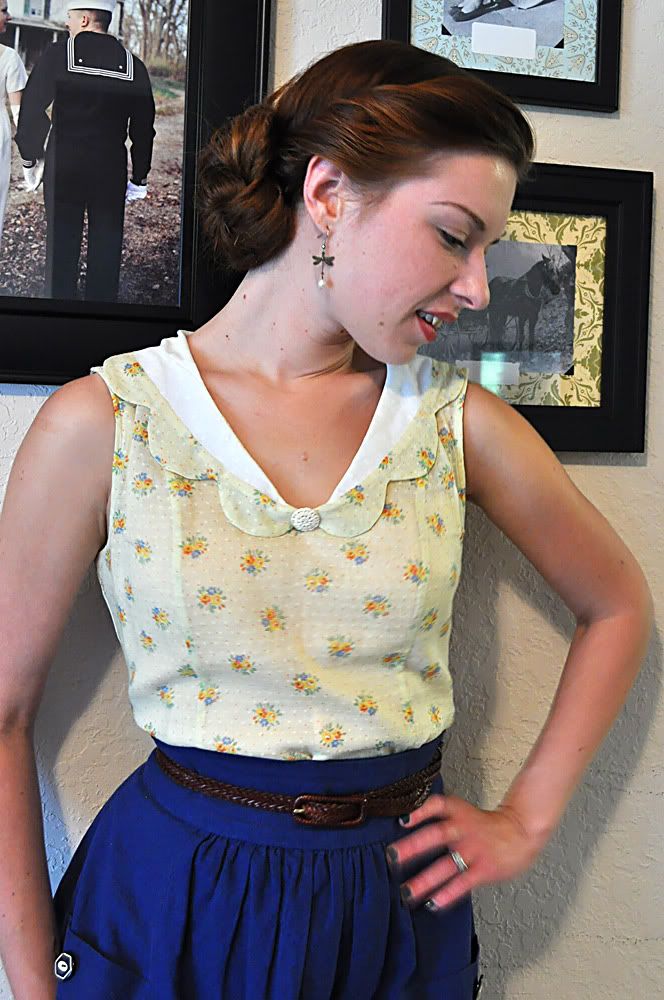 Where can't you add scallops I ask myself?  The Coletterie has a tutorial for adding a scalloped hem here…. I think I seriously need to try this out for myself.  I could also see scalloped edge short sleeves on a Violet blouse perhaps (short sleeved variety).  Scalloped trouser hems?  Gotta get practising !  
Now you know where this is leading ….all of this is occuring in parallel with the very pleasant contagion that is spreading via the Colette Sewing Book & its first pattern in the book – the scalloped hemmed skirt, Meringue.   Now there are some amazing versions out there since it formed the first element of the Sew Colette Sewalong, co hosted by Sarah at Rhinestones and Telephones and Erin at Miss Crayola Creepy, which *just for a change*, I signed up for, but missed all deadlines (only just though!).  Catch the wealth of styles on in the Flickr group.
So yes, in case you are asking, mine is a Meringue.  It is a raspberry filled meringue.  Not without its challenges, but I am very pleased with how it has turned out.  Here is the first picture to whet your appetite ….
I shall be reporting back this week with more photos & a separate post about my trials & tribulations trying to line the thing.  Tricksty tricksty!