Anyone who follows me on Pinterest could be confused by my rather eclectic pinning of late, but it may have given you insight into a couple of occasions I've got coming up.  And with occasions comes the eternal (but exciting!) question, "what shall I make to wear?"
(Source)
 One of the exciting dates in my diary is a posh works do.  Well, I am calling it my red carpet do, but it's not really.  There's never any work dos in my general existence, but for once this one is a goer.  Funnily enough we haven't even decided who will be invited yet, but my thoughts immediately turned to a new sewing project with exceptional novelty potential & I will make something even if I don't get invited!
I could always wear my 80s "ballgown", but why would I want to do that when I could be making something else totally unlike my usual sewn fare?  If I am honest I am not a floor length gown kinda gal.  I mean, what if I turned up (once I've been invited of course) in a floor length gold lame vision, only to find everyone else in cocktail dresses & knees showing?  If I was it would be this one though.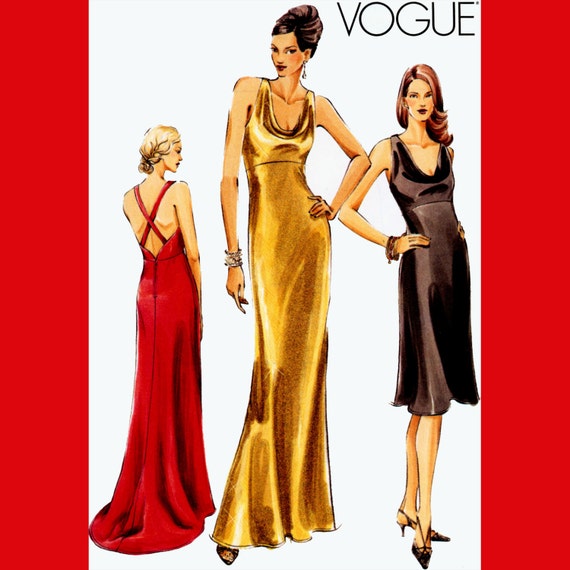 (Source)
The kind of outfit I would feel most comfortable wearing is not even a cocktail dress, but something that can be understated enough to fit in with men in sharp suits as well as holding its own with ladies in cocktail dresses or even a summer floaty maxi dress (because there might be some of those around too).   I mean, I've no real idea what other women will be wearing.  Some might totally ham it up, others might think, "it's just a works do" & pull out a Top Shop frock from 2011 (not that there's anything wrong with either option! – I'm just unsure of the habitat I could find myself in – should I get invited of course).
I'd started looking at vintage style evening dress patterns, some sheath style, others more of a full on early Betty Draper.  I've saved some to this board here on Pinterest (It's a general dumping ground for inspirational clothing that I can't see myself making for a while, but dig deep enough & you'll find them).  Some of the 60s sheath dresses had tie back details, which makes me swoon.  But after using my drive to Cornwall last month to think options (yes – I can report that for the full 3.5 hours I went on a mental journey through outfit variations & sewing preferences as well as as travelling 170 miles south.  It was much like the state that you get in when doing a very long run- your mind literally travels …)  So by the end of the journey I had it all figured out.
I am going separates.  Are you surprised?  Now the keystone will be shoes.  I have one pair of smart shoes in black suede (a special pair from Hobbs that are not only the most expensive pair of shoes I've ever bought, but are gratifyingly the most comfortable kitten heel sling backs I have ever worn).  My next step was revisiting this scarf  top on the Burdastyle website that got me.  I had spied it well before this "do" came up, but with no reason to add it to my sewing priorities, it would have stayed in my dreams.
It's subtle, yes.  Stylish & slinky.  The "scarf" neckline gives a drapey –almost-cowl at the front & an alluring dangle of sash from the back neck.  Gor-jee-ous.
To complete the outfit I thought it needed a slim skirt & my thinking developed along the lines of velvet & thigh split.  Hmm.  Clearly skirt length has to be considered with care to avoid the 70s lady of the night look.  Something a bit like this silhouette but without the knotting (this skirt is actually jersey) & with a more modest split.  (Source)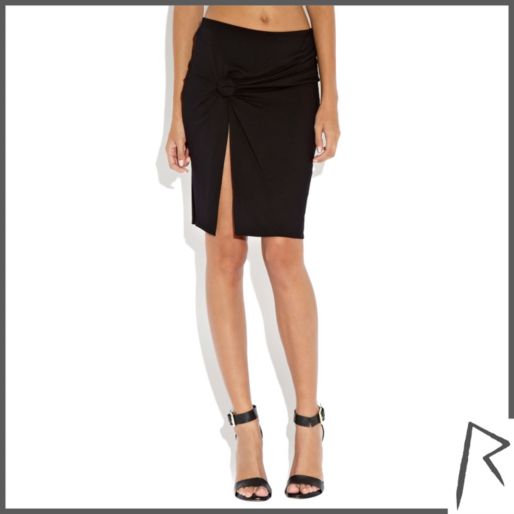 I shall draft it myself.  I have it worked out in my head & don't think it'll be rocket science.
Armed with a plan, come Goldhawk Road* last week, I knew what I was looking for- some silk for the top & some luscious velvet.
And this is what I bought –
This is not silk but I immediately felt deep love for this fabric!  It was everything I could have dreamed of & in colours that are vivid yet lush.  A veritable tropical paradise with rainforest overtones to drape for.   I don't think the photo does it justice.
And to complement it I found the most awesome silk velvet that I could drown in.  It's a cross between teal & bottle green.  There is no way you can even begin to see its beauty & intensity through this photo – it wasn't happening.  But I had to show you something.  Even if your imagination is closer to the mark than what I have put before you!Take my word for it.  It is the dogs (& I don't use that phrase often do I?)
I am overjoyed with my fabric – all in all this has cost £20 so far.  I have some lining I can use for the skirt, so for  my "red carpet" my bank account is feeling chilled.
I'm planning to make it next month.   Seriously how crazed must I have got to ?  I spent the weekend project planning the things I feel I have more of a commitment to make & have now allocated weekends & sewing projects.  Will I respond well to that kind of discipline?  Or will it take the pleasure away?  We shall have to see.
Want to know about another of my four "dos" this summer?  One of my best friends is throwing a party for a "special"  birthday on 4th July – so her theme is – America.  Nice & broad so that guests can justify any kind of outfit- even if it is red, white & blue!
Pinterest will have given you a clue as to my chosen outfit.  Oh this will be funny & so not becoming of a woman in her mid 40s.  But I shall laugh.  "For the 4th of July, Matthew, I am going to be a cheerleader". Here's my pinboard Cheerleader Chic….
As well as an outfit – I am tending towards a version of the Lady Skater Dress – at this stage- although I do like the idea of a skirt & tank top too (don't worry – I promise you no midriff!)    I clearly have to make pom poms, find an awesome wig & make up a routine!  Any places you know I could look for help, please let me know!  I'm new to this. But would like to provide a more authentic kind of routine than this …
My research will of course include watching "Bring it On", "Bring it on again" & "Bring it on some more"- & I know my son will have no complaints about that when he comes home!
* Please don't ask me which shops they came from!  The rainforest fabric came from "the shop that also sells Liberty".  And the velvet was from a shop along the same side of the road, with a downstairs full of velvet, fleece and other concoctions.